How easy is it to cycle on Lake Como? One thing is for sure, Lake Como should absolutely be seen by bike! But as with any outdoor pursuit, a number of factors come into play when deciding if this is the activity for you.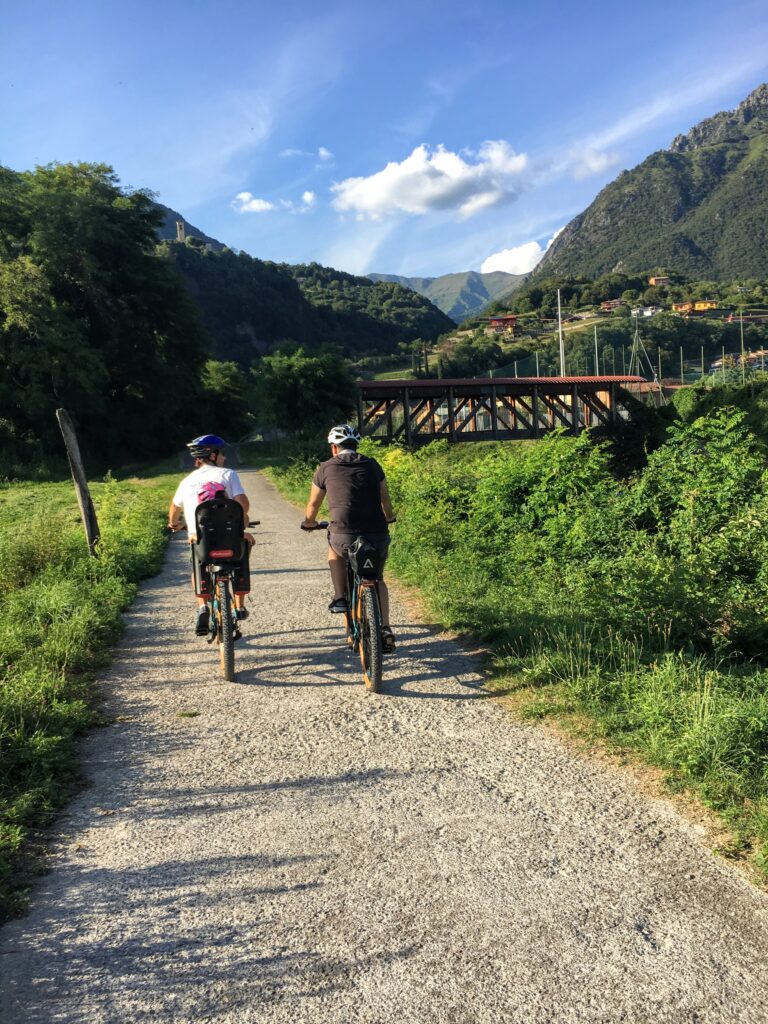 The most important of these is how similar the terrain is to your usual cycling landscape. But even before that comes the million dollar question, when was the last time you got on a bike?? And how secure do you feel riding one in a foreign country? Let's look at the potential difficulties of cycling here, so we can convince you that it is in fact the absolute best way to find the soul of this spectacular place.
Unlike other destinations in Italy, and Europe in general, Lake Como does not offer a well-signposted, continuous cycle path that would allow you to cycle multiple days (or even 1 day) protected from traffic, and in relatively easy, flat conditions. This might seem like a drawback, and it can be, especially if travelling with young children. But it is one of the reasons why we love the lake as a cycling destination –there is a sense of authenticity, real adventure and fun as you go in search of the best back roads.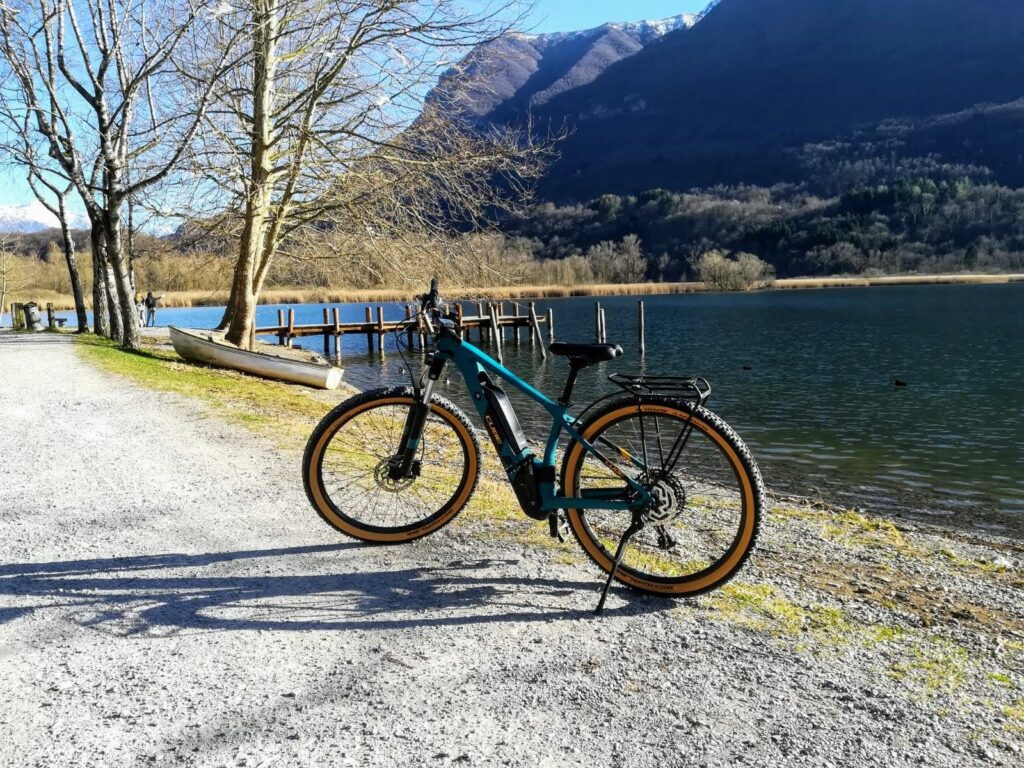 If you are looking for stretches of well-maintained cycle path that are suitable for a fun ride for everyone from the very occasional rider to the passionate cyclist, then these are the areas to focus on:
Menaggio to Porlezza cycle path: Roughly 14 km along the old railway line. Explore the valley between Lake Como and Lake Lugano.
Menaggio to Sorico: A fantastic ride of about 25 km including sections of the 'Antica Via Regina' and easy, family-friendly cycle path between Dongo and Gravedona and again from Domaso to Sorico. But I can already tell you that as you head out of Menaggio towards Acquaseria, there is a tricky intersection with a tunnel, fast cars, a pedestrian/cycle path that abrupty ends and then picks up again right on the main road with no protective barrier. This is all fine, but not if you thought the cycle path was going to be protected all the way! A similar situation arises in Cremia where the "cycle path" is on the narrow main road, delineated merely by the presence of paint markers on a road which isn't wide enough for a shoulder.
Before you embark on any biking activity on the Lake make a mental note that Lake Como is hilly. Hills are everywhere. If you're not actually in the lake swimming, then you're going to come across a steep uphill sooner or later. And so without knowing you personally, I'm going to say, rent an e-bike! You're going to have a lot more fun. Even if you are a pretty regular cyclist you might be surprised by the inclines you find here – be prepared to get a workout!
If you're used to cycling in close proximity to traffic, then you will have fun venturing off the cycle paths. Be mindful that the national road that runs right round the lake has a very narrow shoulder at times and while you may have the opportunity to cycle close to the lake, it isn't the most relaxing option (lots of traffic) or the best way to see the lake views.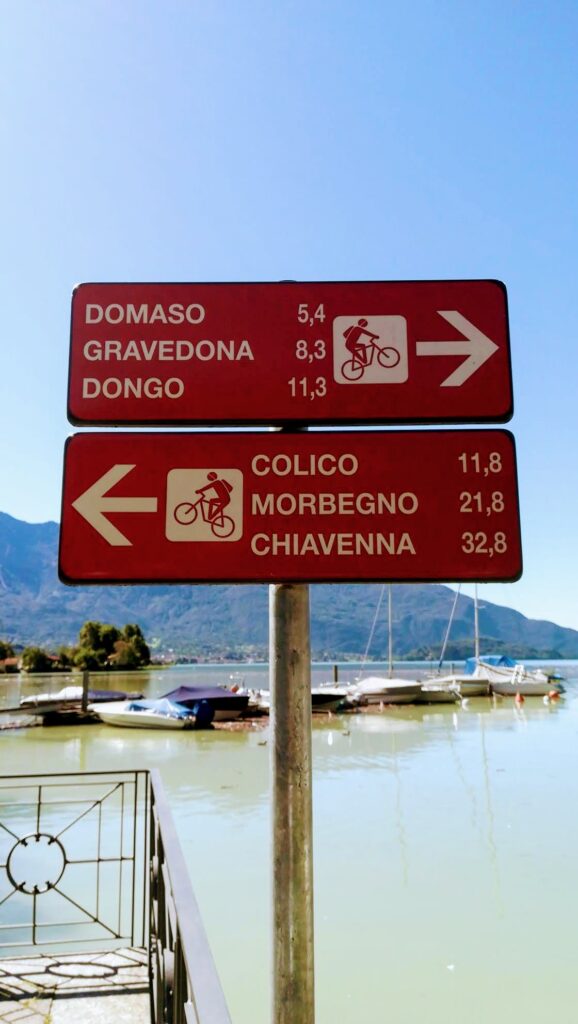 Check out suggested cycling itineraries carefully. Many will have you heading off on what seems like a cool ride – manageable, fun, then you find yourself on an old mule track, or is it a hiking path, oh wait… it's a skilled mountain biker's paradise, aka 'get me out of here'! This is especially true in the case of gps route finders. Lake Como was dominated by agriculture in the mountains and there is a network of extremely steep, stony paths that show up as 'roads'. Trust me, they're not roads!
The lack of proper cycling infrastructure, and the hilly landscape of the lake is where we come in. This is what makes our job so much fun. We know what you can potentially see on a bike here – there is so much to offer of the lesser-known and more authentic lake, but we also know that it isn't very accessible or intuitive for visitors to the area.
The never-ending selection of charming villages best explored on foot or by bike; the stunning high-altitude panoramas; the beautiful mountain roads; mountain restaurants; lakefront gelaterie; churches; olive groves – there's no doubt that Lake Como is a cycle tourism paradise and should be explored by one of the best modes of slow travel, a bike. But consider making it an e-bike unless you're here specifically for the hard climbs, and think about how much more pleasure you'll get out of the experience if you're not wasting time trying to get off the ever-present 'main lake road'. Visit our selection of carefully crafted itineraries here.